UNTAMING THE SHREW
(SBM 9802 - Compact Disk and Cassette)
Ordering Information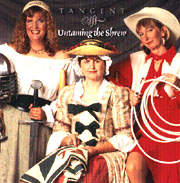 In April of 1994, Connie called Dreda with a desperate plea. "I volunteered to entertain a bunch of children for the Health Department 'Care Fair'. You can act goofy and crazy without getting embarrassed. Would you please help me?" They had a ball, and decided that this music business was just to much fun to give up. Marsha had just moved back to Tidewater, and when the three of them got together at a party, it was instant harmony. Tangent was born.
TANGENT is:
Dreda McCreary
Marsha Wallace &
Connie Smith
SONG LIST
1. FREE LITTLE BIRD
2. CUNLA / BANISH MISFORTUNE
3. THE BARNYARD DANCE
4. ASH GROVE
5. BARKING DOG / CUCKOO
6. COLCANNON
7. DO YOU LOVE AN APPLE
8. QUEEN OF ARGYLL
9. WOODSTOVE
10. LOG DRIVER'S WALTZ
11. REAL COWBOY GIRL
12. PHILIP'S SONG
13. KISS ME QUICK
14. CAM YE O'ER FRAE FRANCE
15. MEMORIES OF HOME
16. BENJI'S FIDDLE