ON THE SPRAY
(SBM/TCM101 - Compact Disk and Cassette)
Ordering Information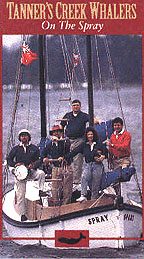 The Tanner's Creek Whalers have been a folk music and sea chanty tradition in Hampton Roads since the early 1970's. They take their name from the historical name of the Lafayette River in Norfolk, Virginia. The group is a "family affair" of Bob, Jim and Susan Heely and her husband, Wilson Cocke, who have been playing and singing together all of their lives. Robert Parker compliments the Heely's on this album with his string bass, Esmarelda, and delivers an exciting rhythm to Jimmy's banjo breaks.
The Whaler's sea songs and chanties come from all over the world: England, Scotland, South America, New England and Virginia. The true musical tradition of the Whalers, however, is Australian. And why not, the Heely's mother, Isobel, hails from Ballarat, Victoria, Australia.
Bob and Jim grew up in the folk tradition of the 1960's and that sound remains in their music today. Whenever the Whalers perform, they make as much "fun" as music and they carried that same spirit into the recording studio. So, sit back, grab a glass of your favorite libation and have some fun with the Tanner's Creek Whalers.
The TANNER'S CREEK WHALERS are:
Bob Heely: Guitar and vocals
Jim Heely: Banjo, vocals and lead chantyman
Susan Heely Cocke: Mandolin, concertina, fiddle and vocals
Robert Parker: String Bass
Wilson Cocke: Autoharp, vocals
SONG LIST
1. DRINKING MEDLEY:
One Keg of Beer
No More Booze
Johnson's Ale
2. YANKEE WHALING
3. NEW YORK GIRLS
4. BONNIE LADDIE
5. JOHNNY TODD
6. THE CHANDLER'S SHOP
7. BOSTON HARBOR
8. REUBEN JAMES
9. SOUTH AUSTRALIA
10. POOR NED
11. AUSSIE MEDLEY
Tie Me Kangaroo Down Sport
Botany Bay
Waltzing Matilda
12. CHILLY WINDS
13. NORFOLK REBEL - Click for the words
14. LEAVE HER JOHNNY