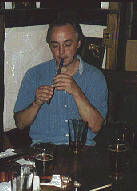 Andy Cleveland
Andy Cleveland plays the fiddle (which he built himself), flute, and tin whistle, and adds his tenor voice to the group's a capella pieces. He joined
the band in 1992, after several guest appearances. Andy hails from Scunthorpe, England, where he became steeped in traditional music and beer drinking at the Scunthorpe folk club and at the hand of his father who plays concertina for the well known Stubblejumpers Ceilidh band. He sailed for a while with Her Majesty's Merchant Navy, but now lives near Norfolk, where he works as a computer network manager.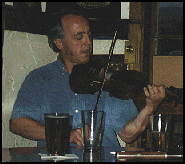 He has been playing fiddle since 1977 and has been a repeated winner of Scottish fiddle competitions in the Tidewater Virginia area. Andy is a much sought after seisiun musician and has performed with the Virginia Stage Company. He will be featured on an upcoming recording by Kelly Kennedy.
Photos: Kelly Kennedy